Frequently Asked Questions
Helping get the right products,
by providing the answers you need.
Wholesale, Retail, and Food Service.
Working together with the world's most trusted leading growers enables PSI to source only the freshest, best tasting, top-quality fresh fruits, and vegetables. Our mission is to deliver quality controlled, nutritious products, including organics, local and hard to find specialty produce.
Do you buy from local farmers?
Yes, we always strive to support our local farm community. From helping them source specific seed or plant varieties and by developing the best ways to grow the crop to maximize the eating experience to the customers.
Does PSI have experience in sourcing fresh produce?
Yes, each member of  Procurement Solutions International has years of experience, knowledge and comes from a background in sourcing fresh produce. We will travel globally to find the best product available by region. At PSI we all share a passion for sourcing quality, ethically grown, and nutritious products.
What is miDori BioSolutions packaging?
Sustainable Solutions for the Real World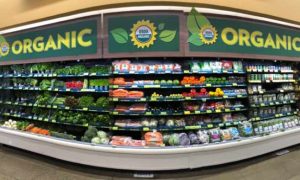 When placed in a biologically active landfill, the ingredients in our packaging allow for the formation of a coating (called "biofilm") on the surface. The biofilm is made up of microbes that penetrate our bag, while other ingredients work together to expand the molecular structure, in turn, making room for microbes. The microbes then send out chemical signals (their way of communicating), to attract additional microbes to the site. Once all of the microbes have been assembled, they collectively feast on the polymer chains, breaking down the chemical bonds of the product at an accelerated rate.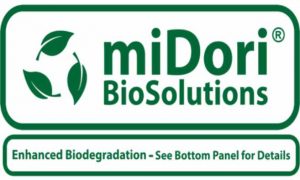 miDori "BioSoluton" enhances the biodegradation of plastic polymers into methane (can be converted to energy), carbon dioxide, and inert humus (makes soil richer).
This additive differs from other "degradable plastic additives" available in the market today, mainly because it is the leading additive that produces methane (a critical component of enhanced biodegradation in an anaerobic environment), which can be recaptured and used as a source of renewable energy.
Read more about this at A Student's Guide To Global Climate Change.
ASTM D5511 tests (representing biologically active landfills) carried out for durations ranging from 1 to 12 months, on a broad category of a product containing the additive have shown excellent bio-degradation rates.
It is important to note; that biodegradation will begin and will continue leading to significant bio-assimilation. 
Independent ASTM D5511 tests, representing biologically active landfills, have shown 33.9% biodegradation within 153 days. (see graph below)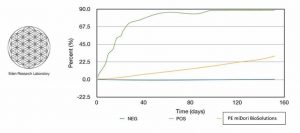 There are important questions to ask based on this sort of information.
For example:
Is the product made from oxo-degradable plastic?
No, oxo-degradable plastics require oxygen and UV light or heat to initiate degradation and thus will not biodegrade in landfills. Our product does not require either UV light or oxygen to biodegrade and will biodegrade at any depth in landfills. Oxo-degradable plastics break down into smaller components called 'microplastics' and are actually terrible for the environment.
For additional information contact: miDori-Bio.com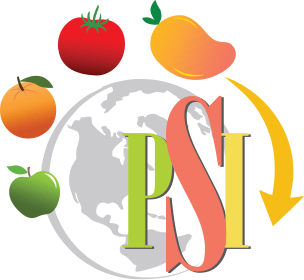 P

rocurement

S

olutions

I

nternational 
Fresh / Delicious /World Class Produce
778-432-3004
#108 2220 Sooke Road. Victoria, B.C. V9B OG9 Canada